Drive away hunger in San Diego County by participating in the annual Stuff the Bus Food Drive!
Join us to help stop hunger in San Diego! Your food donation to the Jacobs & Cushman San Diego Food Bank will help thousands of local families in need this winter. 
Visit any Albertsons or Vons store and purchase critically-needed items for donation to the San Diego Food Bank.
---
Food Drive
December 7 – December 12, 2020
We've made it so easy to give! 
Vons: Donate a $5 prefilled bag of groceries
Albertsons: Donate any non-perishable food item or join the fundraiser virtually by shopping on the online portal!
---
Stuff the Bus AT HOME! 
Join our Virtual Food Drive by checking out items from the online store! Just pick the items you want to donate,  drop them in the shopping bag to check out! All donations go directly to the San Diego Food Bank.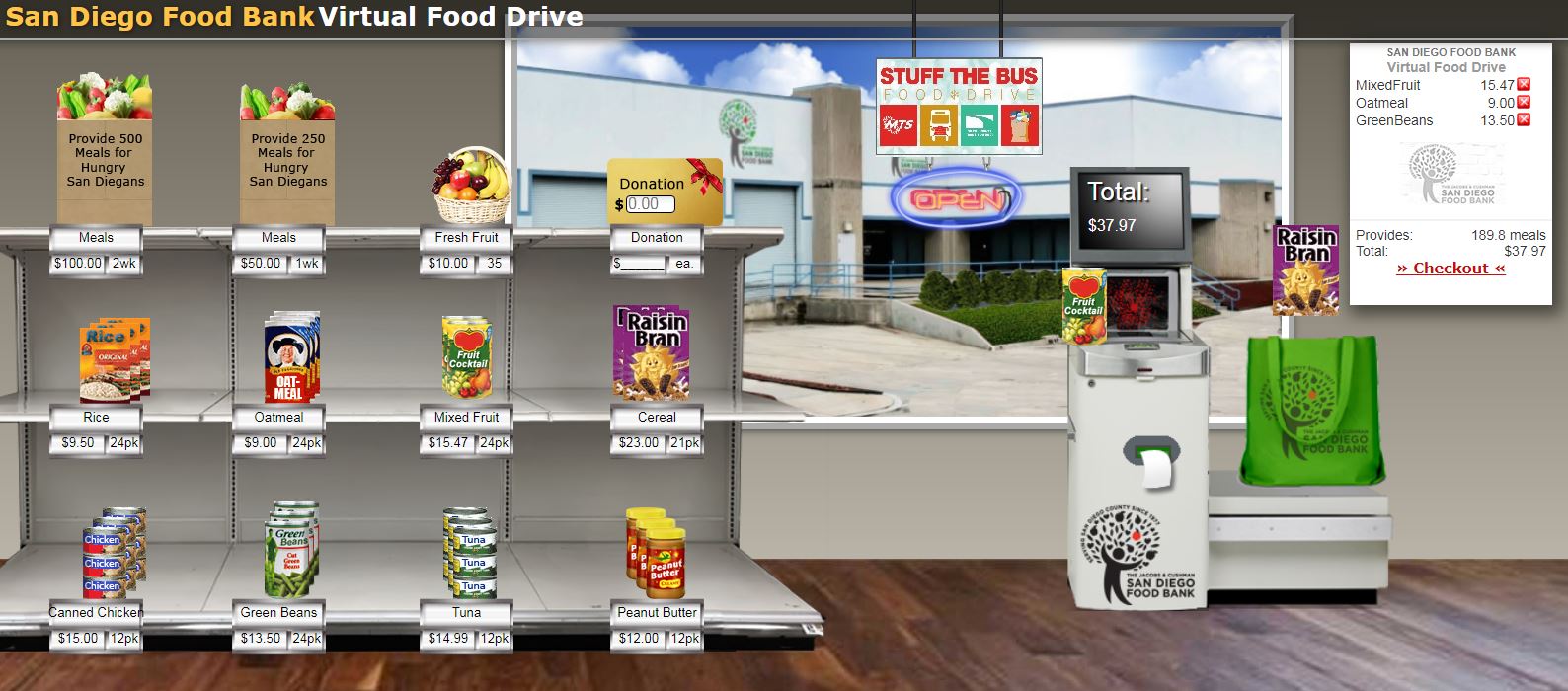 ---
Stuff the Bus -Donation Pick Up
Saturday, December 12
10 a.m -1 p.m.
Buses will collect donations at select Albertsons or Vons on Saturday, December 1. Stop by and help "Stuff the Bus" to make a huge donation to the food bank.
---
Vons stores will have pre-packaged "Hunger Bags" filled with critically needed items for just $5. 
Albertsons shoppers can choose from among these items:
Canned Tuna or Chicken (in water)
Canned soups (low sodium, low fat)
Dry or canned beans (low sodium)
Canned fruit (packed in its own juice, no added sugar)
Cereal (low sugar, whole grain or bran)
Canned Vegetables
Dried Fruit
Rice (brown or wild) and Pasta (whole grain)
Dried Fruits
Nuts and seeds (unsalted almonds, flax)
Powdered milk (low or non-fat)
Peanut butter (no sugar added)
Infant Formula
---
Buses will be at the following locations
Carlsbad Vons   
6951 El Camino Real
Chula Vista Albertsons   
720 Third Avenue
El Cajon Vons 
1201 Avocado
Escondido Albertsons 
1509 East Valley Parkway
Lemon Grove Albertsons
7090 Broadway
Mira Mesa Vons 
8310 Mira Mesa Boulevard
Oceanside Albertsons 
3450 Marron Road and
3925 Mission Avenue
Rancho Bernardo Vons 
11986 Bernardo Plaza Drive
San Carlos Albertsons
8650 Lake Murray Boulevard
San Marcos Albertsons 
1571 San Elijo Road South
Serra Mesa Vons 
3550 Murphy Canyon Road
Santee Vons 
9643 Mission Gorge Road
Spring Valley Albertsons 
543 Sweetwater Road
University City Vons 
7788 Regents Road